The Happy Book – a Record of Your Happiness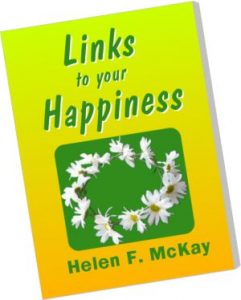 See …
the bright, cheerful fabrics and Touch the cover's textures Let them stimulate your senses, And lighten up your mood.
Open up the cover and Read the welcome page Suitable for big or little kids or For folks of every age.
Write …
All Your Happy Moments Into your Happy Book, each day, And when you're feeling sad – or blue, Reading through your book Will lift you up — it's good for you.
Be Happy!
"Happy Books", by Helen McKay
Direct from the author: @ AUD$5.00 Plus postage $3.00
Mailed anywhere in Australia (overseas plus $8.00)
Email: books@helenmckay.com
About the Happy Book
This book is for you to write in, about the many things that made you happy —
Take two minutes everyday, to write down the joyful things that made you happy
One day you will enjoy looking back, to see what makes you happy now.
Whenever you feel happy – no matter how large, or small, your happiness is … Write it down in your Happy Book.
You are responsible for your happiness. So … When things go wrong and you feel sad, sick, or sorry, get our your Happy Book to enjoy seeing pages of your happiness.
Relish …
The bright colours in the fabric and feel the lovely texture of the cover with your hands. Stimulate the super-sensory areas in your hands that cause the release of serotonin in your brain.
A flood of endorphins will be released into your bloodstream and your mood will be enhanced. This will make you feel so much happier!
Look at the things that made you Happy. Choose something from the list to do, to change your mood and make you Happy too.
Be Happy!
Some Feedback on the Happy Book
"I am on my way to happiness Helen. You have given me inspiration and I am now going to tidy up here, do my garden and get on with it." — Dawn Tubby, Wellington, NZ
"My little happy book is a great inspiration – there were so many things I had forgotten that were important to me." — Brenda, WA Australia
"What you suggested about the Happy book will help both of us. It's wonderful to hear from someone so positive." — Alex, UK
"Helen, you will be pleased to know that the14 year old boy, I mentor, is using your Happy Book, and really enjoying writing down, what makes him happy each day. I can see definite improvements in his general attitude. So … congratulations once again … " — Sue Alvarez, Manly, NSW